The Republican Study Committee (RSC), the largest conservative caucus on Capitol Hill, has released a fact-sheet exposing what "Democrats are hoping the public won't find about" in Biden's $1.9 trillion stimulus bill.
Rep. Jim Banks (R-Ind.), RSC's newly elected chairman, said in a memo sent to RSC members that they have put up all items of "special interest pork and other liberal goodies" included in the bill.
Democrats on last Friday unveiled the full text of the 591-page bill (pdf), titled the "American Rescue Plan Act of 2021."
"Keep in mind only 1 percent of this $1.9 trillion will go toward vaccines, and only 5 percent overall of this entire package is geared toward public health efforts directly related to the pandemic," Banks said in an interview with Fox News.
Banks said President Joe Biden's bill is a "bailout full of kickbacks to Democrats special interest groups that gave them power," such as $10 million to every labor union, bailouts to Planned Parenthood, stimulus grants to illegal immigrant families.
"If that's not bad enough, Nancy Pelosi plugged in a $200 million earmark for an underground tunnel in San Francisco for Silicon Valley employees," Banks said. "This is a bailout to the special interest groups that gave them power."
The fact sheet also pointed out that the $50 million for EPA environment justice grants is a "thinly-veiled kickback to leftist environmental groups."
Under the category of the "left's social justice agenda" billions are given in loan forgiveness and subsidies to "farmers and ranchers on the basis of race and ethnicity," the RSC fact sheet claimed.
The RSC also identified $600 million for additional paid leave for federal employees and postal workers.
The RSC claimed that Biden's bill is keeping schools closed.
It pointed out that the bill provides $130 billion on top of the $110 billion already given to schools, even if they remain closed. Plus, the bill gives labor unions—including those teachers' unions fighting against school reopening—access to the Paycheck Protection Program (PPP) funding worth up to $10 million per union.
The RSC went on to claim that by raising the federal minimum wage to $15 per hour, the bill is "job-killing," and 1.4 million jobs will be lost, with younger Americans with less formal education being hit the hardest.
The RSC also said providing a weekly $400 bonus for up to nearly a year and a half would make 53 percent of Americans effectively get a raise for being unemployed. Thus it won't encourage people to go back to work.
And the $1400 stimulus checks would go to some couples with up to $200,000 in annual income.
Budget-busting spending is also one of the reasons the RSC is critical of the legislation.
The RSC said that over $1 trillion remains unspent while Democrats push Biden's $1.9 trillion budget-buster.
It also pointed out that in Biden's bill, $350 billion will be spent as a bailout for state and local governments, $30 billion will go to transit giants, $8 billion to largely urban airports, $150 billion to the Coronavirus Relief Fund for state and local governments to cover pandemic related expenses, among others.
The bill is soft on China, the RSC claimed.
For example, it allows funding to go to colleges and universities that have partnerships with Confucius Institutes—a propaganda tool embedded in U.S. academic institutions—and allows funding to colleges that have partnerships with companies owned or controlled by communist China.
The House Budget Committee voted Monday to advance the American rescue Plan to a full House vote expected later this week.
House Republican leadership has recommended a "no" vote for the $1.9 trillion relief bill.
"Republicans insist that we must safely reopen schools, reopen the economy, speed up vaccine distribution, and effectively spend the remaining $1 trillion from previous COVID packages," House Republican Whip Steve Scalise (R-La.) said in an email to his caucus on Friday. "However, Democrats rejected hundreds of Republican amendments and any efforts to advance bipartisan solutions that are targeted, temporary, and tied to COVID relief."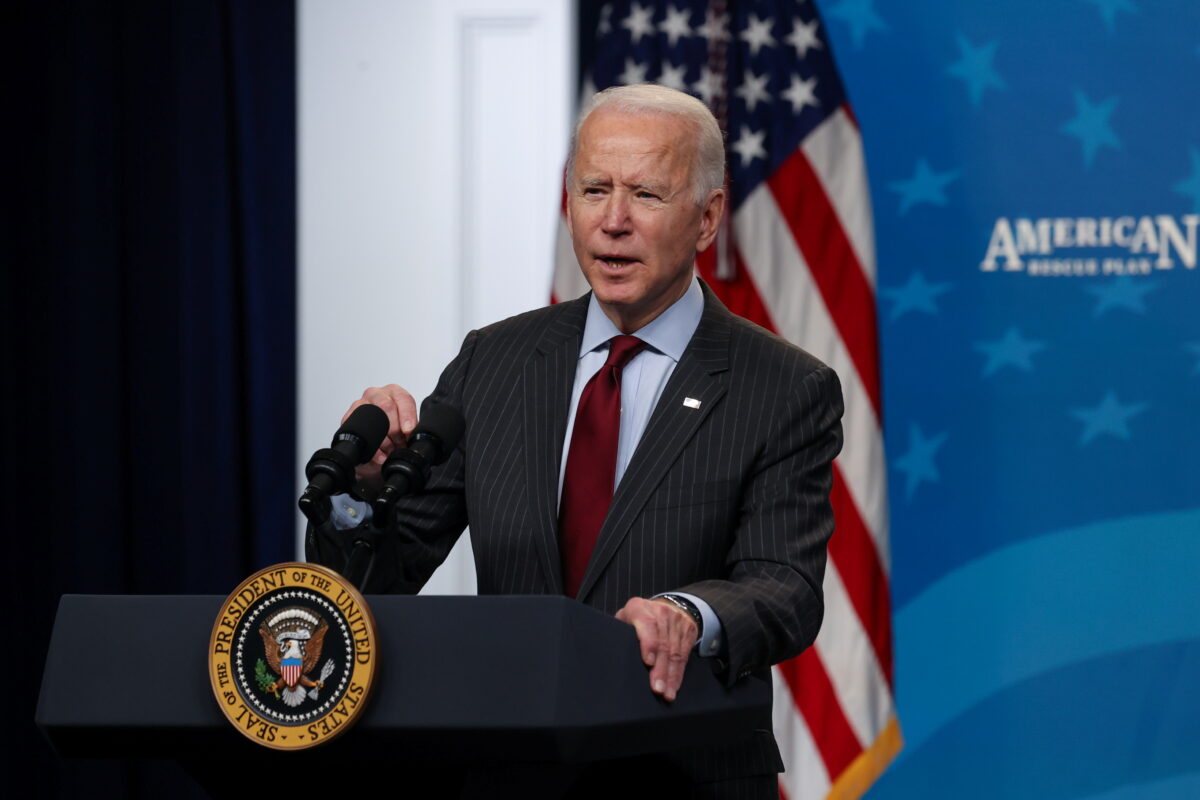 President Biden said that the bill needs to pass.
"We need Congress to pass my American Rescue Plan.  It deals with the immediate crisis facing our small businesses," Biden said when he announced changes to the PPP funding on Monday. "Now, critics say the plan is too big.  Let me ask them a rhetorical question: What would you have me cut?  What would you leave out?"
"In fact, an analysis by Wall Street's firm, Moody's, estimates that if we pass my American Rescue Plan, the economy will create 7 million jobs this year," Biden added.
Biden indicated earlier this month that his proposal would pass even without Republicans' support.
Mimi Nguyen Ly contributed to this report.
---
Reprinted with Permission from - The Epoch Times by - Li Hai
If You Enjoy Articles Like This - Subscribe to the AMAC Daily Newsletter
and Download the AMAC News App
Sign Up Today
Download
If You Enjoy Articles Like This - Subscribe to the AMAC Daily Newsletter!
---