"Absolute socialism" is just around the corner in the United States if the proposed infrastructure bill passed Congress, according to Rep. Ralph Norman (R-S.C.).
The Democrat-led Senate is working on a major infrastructure bill that Democratic lawmakers hope will be signed by President Joe Biden by the end of September. Biden first floated the $2 trillion infrastructure bill while campaigning.
"Socialism probably is right around the corner—absolute socialism," the Republican lawmaker and real estate developer told NTD News, expressing concern over the nation's debt as the White House mulls how to pay for the wide-ranging bill.
The starting point for infrastructure costs stands at $320 billion from a transportation bill previously passed in the House. However, the White House has so far declined to specify an overall price tag since proposing its $2 trillion plan amid concerns of how to pay for it. Press Secretary Jen Psaki said on Monday that Biden will be discussing the proposal with his policy team "in days ahead."
Democrats have said the package would include roughly $1 trillion for roads, bridges, rail lines, electrical vehicle charging stations, and the cellular network, among other items. The goal would be to facilitate the shift to supported "green" energy while improving economic competitiveness.
A second component would propose benefits for workers, including free community college, universal pre-kindergarten, and paid family leave.
Democrats have proposed a wealth tax as a potential funding mechanism for the bill.
"The problem we've got is so many… from Biden on down to who he has put in control, are career bureaucrats. They've … never had a job, they've never worked in a factory, they've never had to produce income," Norman said.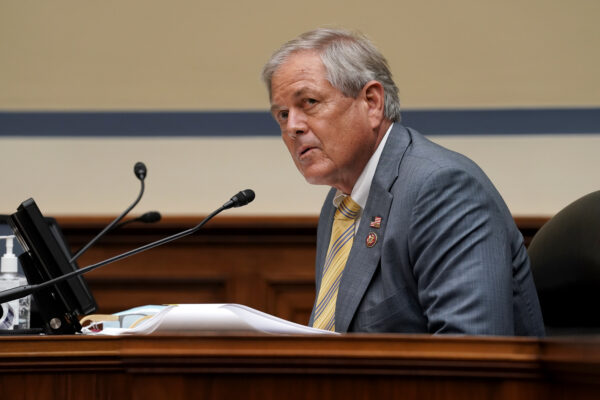 "I was on the budget committee last year, to have the $1.9 trillion [COVID-19 relief package], they're talking about another $2 trillion plus for infrastructure, no budget offsets—you just would not do this, the country's $30 trillion in debt."
"Every individual agency or every individual grouping from Medicare, social security, the items that we by law have to fund now are about bankrupt," he added. "So this would pretty much do us, and combined with the tax hikes, it makes absolutely no sense," he said.
Norman's remarks echoed a Monday Senate floor speech by Senate Minority Leader Mitch McConnell (R-Ky.), who said that he expects the proposal will be a "Trojan horse" that includes other Democratic priorities such as tax hikes, and "other job-killing left-wing policies."
Tax hikes imposed by the Biden administration to fund the package would "hurt the whole country," Norman said, noting that a recession followed when former President Lyndon Johnson in 1968 created a temporary 10 percent income tax surcharge on both individuals and corporations.
Biden has proposed raising the corporate tax rate from 21 percent to 28 percent.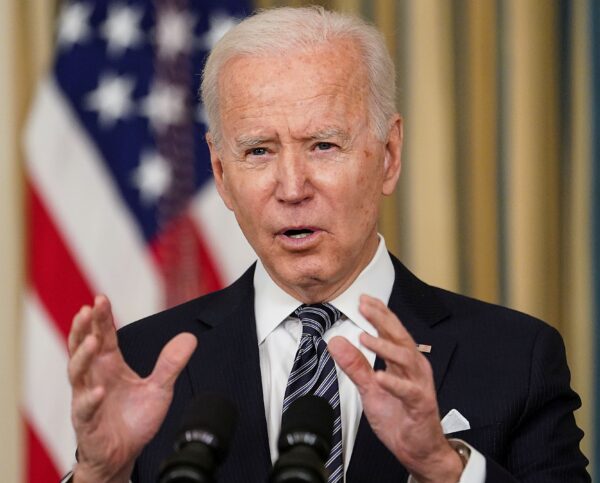 "You can't tax your way into prosperity. We've just come off the pandemic, people have been out of work. To impose these kind of tax increases—which is taking our money that we've earned and giving it to the government—is going to hurt. It's going to hurt the whole country," Norman added.
Although the goal is a bipartisan infrastructure package, Democrats in Congress have signaled a willingness to go it alone if they are blocked by Republicans, given their current majorities in both houses.
"We need to get it done," said Sen. Richard Blumenthal (D-Conn.) ahead of a virtual meeting with the president at the senators' annual retreat on Monday evening.
Sen. Bernie Sanders (I-Vt.) said last week that he plans to attempt passing the infrastructure bill by using a budget process to cut out Republicans, even though several Democrat senators have said they won't support utilizing the method.
The COVID-19 relief package was passed with zero Republican votes after Congressional Democrats used the reconciliation budget process to bypass the filibuster, which lowered the threshold required in the upper chamber from 60 to 50.
"Businesses are the backbone of this country, small businesses particularly, are the ones that produce the taxes that pay the first responders, the police, fire. And that's what we've got to get back to, to remind the American people," Norman added.
NTD's Paul Greaney and The Associated Press contributed to this report.
---
Reprinted with Permission from - Epoch Times by - Isabel Van Brugen and Paul Greaney
We hope you've enjoyed this article. While you're here, we have a small favor to ask...
Support the AMAC Foundation. Our 501(c)(3) powers the AMAC Foundation's Social Security Advisory Services. This team of nationally accredited advisors offers on-time, on-the-mark guidance for those approaching or receiving Social Security – at no cost.
Donate Now
---
If You Enjoy Articles Like This - Subscribe to the AMAC Daily Newsletter
and Download the AMAC News App
Sign Up Today
Download
If You Enjoy Articles Like This - Subscribe to the AMAC Daily Newsletter!
---